Unity of Wilmington is able to impact the positive transformation of lives and the expansive thinking of our collective consciousness because of the grateful giving you engage in through your tithes and offerings.
Please click the Donate button to give securely online through Paypal.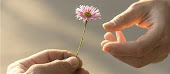 "I am one with the opulence of God.  I am now in the flow of infinite abundance, and I give thanks for the prosperity that is mine by divine right."  
Charles Fillmore, co-founder of the Unity Movement
Our Blessing Statement
Divine Love,
Through me,
Blesses and multiplies
All that I am,
All that I give,
And, all that I receive.